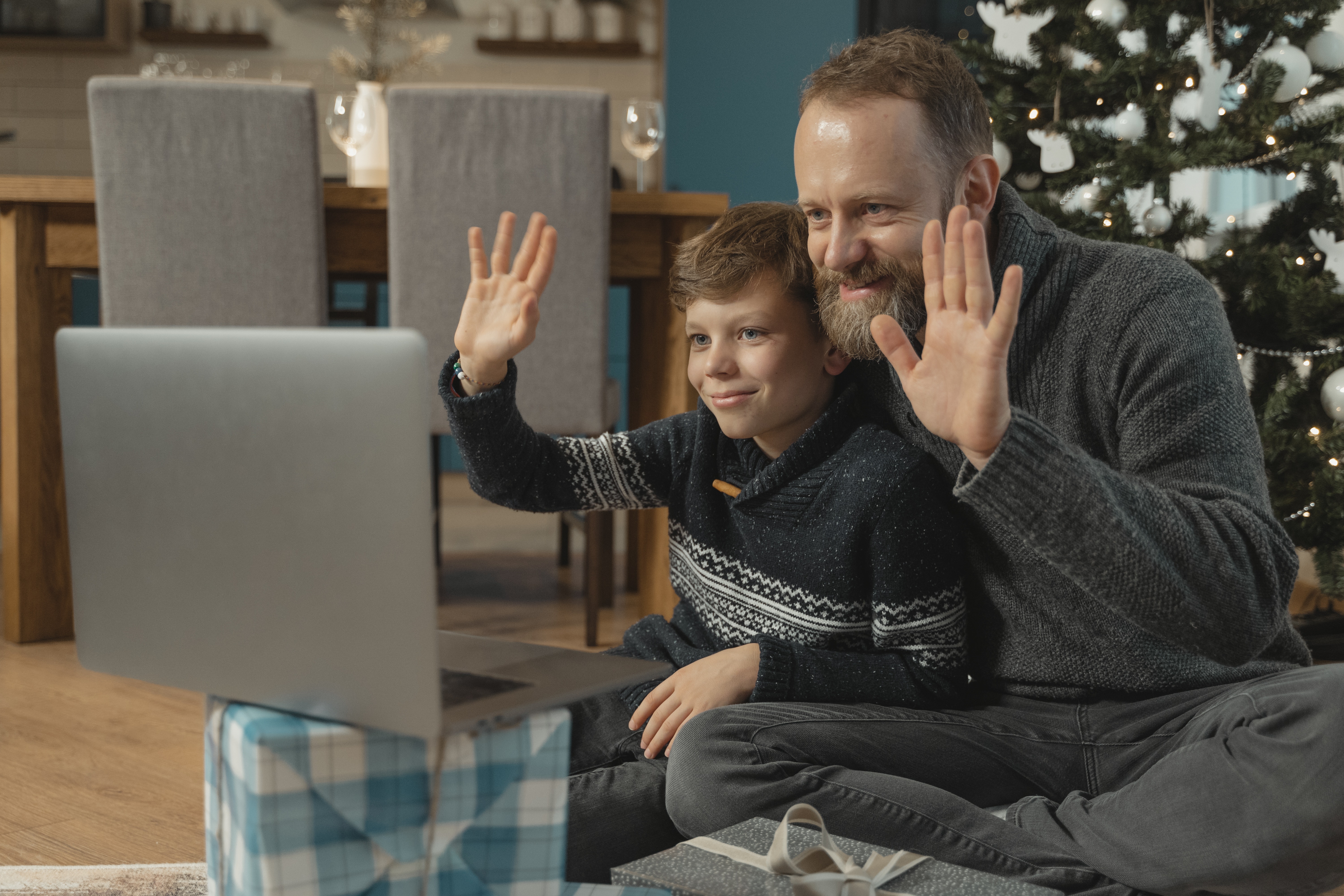 Whether you're distancing yourself from others to stay safe, you're unable to travel for some reason, or if you just want a quiet holiday without much fuss, many of us are planning to spend our Christmas at home. While some may enjoy the day just as if it were any other day off, others may find it comforting to still partake in Christmas activities, even if they're doing it from the comfort of their living rooms. With the help of the internet, there are many ways to relax and enjoy the holidays from the safety and comfort of your couch, without sacrificing the Christmas traditions you love.
If you have children, they most certainly won't settle for Christmas time without Santa. While many of us will be distancing this time of year to stay safe and healthy, that means that many kids won't get to visit Santa. Fortunately, there are many online services to help give kids this experience remotely and therefore, safely. There are a handful of websites dedicated completely to personalized, online, Santa experiences for kids. With websites like livecallswithsanta.com, kids can still visit with Santa without any health precautions or travel. Parents who sign their kids up will give some basic information so that Santa can greet them personally in their video calls, or in a pre recorded, personalized video. With hiresanta.com, which was featured and funded on the television show, Shark Tank, parents can also sign their kids up for personalized online Santa experiences, but they can even hire Santa for an in-home Santa meeting, saving you all the fuss of the travel to the mall and the long lines to wait to see Santa, meaning you not only save time but stay safer without the crowds. Even Cameo can be used to help keep your kids in the Christmas spirit, as they offer Santa calls as well, but also many other holiday themed experiences such as calls with Mrs. Claus, the Grinch, Santa's elves, the Krampus, Buddy the Elf, and more.
Another fun way to pass the time at home with your kids using the internet is to help your kids keep up to date with Santa's whereabouts with NORAD's Santa Tracker. NORAD, North American Aerospace Defense Command, has been tracking Santa's whereabouts as he makes his way across the world to deliver presents on Christmas Eve since a typo first led a child to call them in an attempt to reach Santa in 1955. Today, kids can log on to NORAD's Santa tracking website at https://www.noradsanta.org/en/ and see where Santa is currently delivering presents and how close he is getting to their own home. Not only does NORAD offer this fun Christmas distraction, but their website also has a few other activities for kids to try out when they aren't tracking Santa. The website also features an arcade with Christmas games, a "theater" that links to their Youtube and features videos about Santa and NORAD, a "music stage" with over forty Christmas songs to listen to, a library to read Christmas books, a NORAD HQ to learn more about NORAD and their Santa tracking mission, and a gift shop with NORAD and Santa gear to purchase. There is also a call line that kids can utilize to get Santa tracking updates, just like the first child who accidentally called NORAD back in 1955.
If Christmas just isn't Christmas without the movies, then of course the internet is here to help as well. Not only are there many Christmas movies to watch on paid streaming services like Netflix, Hulu, and Amazon Prime, but there are also many free ways to watch some of your favorite Christmas classics. Peacock, which also has a paid version, has a few Christmas movies available to watch on their free version such as A Garfield Christmas, Mr. Magoo's Christmas Carol, The Dog Who Saved Christmas, Much Ado About Christmas, An American Christmas Carol, Santa Claus is Coming to Town, Santa and the Three Bears, and more. For those who prefer to stick with Youtube, there are many Christmas movies available to rent or buy, but just like Peacock, they also have some free to watch Christmas movies. The list changes often, but currently a few holiday movies that you can watch for free on Youtube are Jingle All The Way, Holiday Wishes, Grumpy Cat's Worst Christmas Ever, Nutcracker: The Motion Picture, Thomas Kinkade's Christmas Cottage, and more. On top of all these holiday movies, Youtube also has endless amounts of content creator-made Christmas videos for kids, and adults, to watch during the holidays.
Even if you want some Christmas ambiance with none of the fuss, the internet can even provide that with an online yule log. For years, internet users have been logging onto Youtube and other websites to tune into their virtual yule logs and Christmas environments. If you don't have your own fireplace, simply go to Youtube.com and search for "yule log" to find hundreds of choices to fit your exact Christmas vibe. They have a variety of choices such as your traditional yule log or fireplace setting with ambient Christmas music or just fire crackling sounds, to more specific and fun yule log experiences that are centered around dogs, cats, squirrels, birds, and even specific interests. There are yule log and fireplace videos that are Hogwarts themed, there are fires on the beach, one can watch the comedian Nick Offerman sit beside a crackling fire as he sips a drink quietly, fans of Rick and Morty can tune into a video and watch television with the characters aside their fireplace and Christmas tree, you can tune into the yule log at Graceland and listen to Elvis Presley music, or even sit in on an Ozzy Osbourne themed yule log video. No matter what your interests are, what kind of music you like, or what Christmas environment you are going for, there is a yule log video to suit your needs at Youtube that range from short videos to videos that are hours long, and even live yule log feeds to watch so that your Christmas experience isn't interrupted by ending or switching videos. An extra treat you will find when looking for the perfect yule log video is that there are also lots of cooking videos as well so you can learn to make your very own yummy, edible yule log. If Youtube isn't your thing, Netflix offers two different yule logs to choose from, and Disney+ offers a Frozen themed yule log experience.
For those who just can't get out to see their loved ones but can't imagine a Christmas without them, there are quite a few tools to keep you connected while distanced. With the help of apps and websites, people can still do many of the things they typically would while visiting with family with only a computer screen separating them. With the help of apps like Zoom, Google Duo, Skype, Facetime, WhatsApp, Facebook Messenger, and more, families and friends can have a quick video chat or even set up an online Christmas party that could last hours, and include many participants. Using one of these apps, people can catch up, open gifts together, bake Christmas cookies together, watch Christmas movies together, and even have Christmas dinner together. Paired with a Christmas music playlist like this one at Spotify, https://open.spotify.com/playlist/37i9dQZF1DX0Yxoavh5qJV, this Christmas channel at Pandora, https://www.pandora.com/genre/christmas, one of the many free Christmas movies online, or one of the many yule log video experiences, Christmas can still have the warmth and togetherness that is important to so many people. For a little extra fun and Christmas spirit, many websites such as pexels.com have a large selection of Christmas themed backgrounds that you can download for free and use as the backdrop to your video call, giving the illusion that you are in front of a fireplace, Christmas tree, out in the snow, and more.
No matter how or what you choose to celebrate, Vhical wishes that everyone has a safe, happy, and peaceful holiday season!