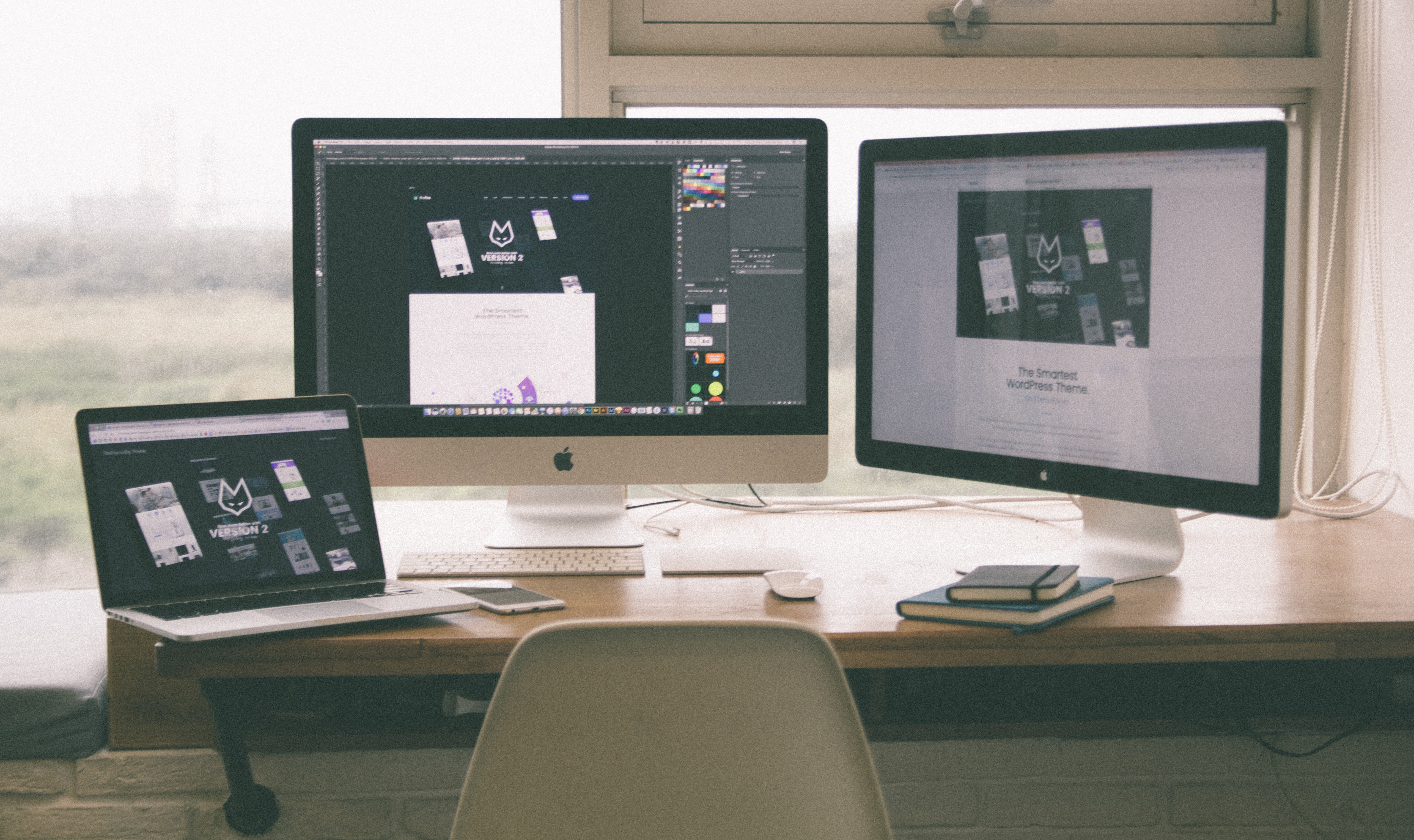 These days there is a free app or tool for nearly everything, and that includes web design. If you are a small business owner, you may be drawn to these types of tools to save money and valuable time, but as with anything free or easy, there are many drawbacks to this path that you will not face if you hire a professional web designer to create your businesses website.
It has been found that 75% of a websites credibility comes from the design, so a professional design made by a real web designer sets you apart from those using templates from free website builders. These free tools leave you with a limited amount of templates and designs to choose from, leaving your website looking awfully similar to the others made with the same tools. Not only does this look less professional and credible, it also leaves your website looking forgettable. You may also be forced display ads that you have no control over and may not align with your businesses beliefs, or to have a place on your website that tells the user it was made with a free website maker, which instantly makes your business look less credible and professional than businesses who hire a web designer to make their website for them. You only have seven seconds to make a good first impression, and a web designer can help you make that impression.
While a free tool to build your site may sound easy, they can also be difficult to maintain. If problems arise, you will not have the support that you will have available to you if you hire a professional web designer to build your site. Not only will a web designer be there to fix any potential issues, they also make it a priority to keep up to date on all the latest technologies they use or that you may benefit from, meaning less problems are likely to rise in general. They can also help you when your business grows. You may find yourself ready to move away from your free website builders when your business expands and needs more functionality than what the free website offers, but you will have no help from the creators of the app or tool, meaning it can be very difficult or impossible to switch platforms. A professional web designer will build a website that can grow with your business.
"Free" tools are also not always free. You may find yourself hours into building your "free" website, only to hit a pay wall for a feature that you really need. You will likely find yourself upgrading to premium memberships to do more of what you want while still being limited by the app or tools abilities. Hiring a web designer does not come with these membership levels, as their goal is to give you a website that does exactly what you want, not the bare minimum. If you make your own website, to get closer to having the website you want, you may be forced to use or overuse tools and plug-ins for fixes, which leads to code bloat, which can slow down or break your site. 47% of people expect a site to load in 2 seconds and 64% of mobile users expect a site to load in 4 seconds, so site delays or issues caused by code bloat can greatly reduce the number of users who continue seeking further information about your business from your website. This cannot be ignored because 85% of people check a website before making a purchasing decision and a one second delay can lead to an 11% loss in page views and a 7% reduction in conversions. Professional web designers have experience and coding knowledge that prevents this code bloat from happening and keeps your site running smoothly. A bug free website keeps users coming back, so this is extremely valuable.
These tools also do not give you the full range of services that you get with a professional web designer. With a professional you will have available to you a graphic designer, SEO expert, and support for when issues arrive. With a free tool, you are also the one responsible for choosing or creating your images, but with a web designer, they handle this task. With a free tool, you may not even be able to display some of the media that is important in showcasing your business. With there being $341.7 billion in web sales in 2015, and even more today, you definitely want your business to stand out online amongst the competition, and the right graphic design and media is integral in showing just who you are and what you offer. Web designers have a creative edge that can help keep your website on-brand and attractive, which is important because 38% of people will leave a website that they find unattractive. They also have SEO skills and experience, which matters because 60% of Google users click the first three links and only 10% will go past the first page of search results. Your free website builders do not help you to achieve these search rankings, but a web designer will.
Quite simply, professional web designers are capable of helping you build an online strategy that fits your business, something a free tool cannot do. With a professional looking, attractive, and on-brand website, a small business can look as professional and successful as businesses much larger.