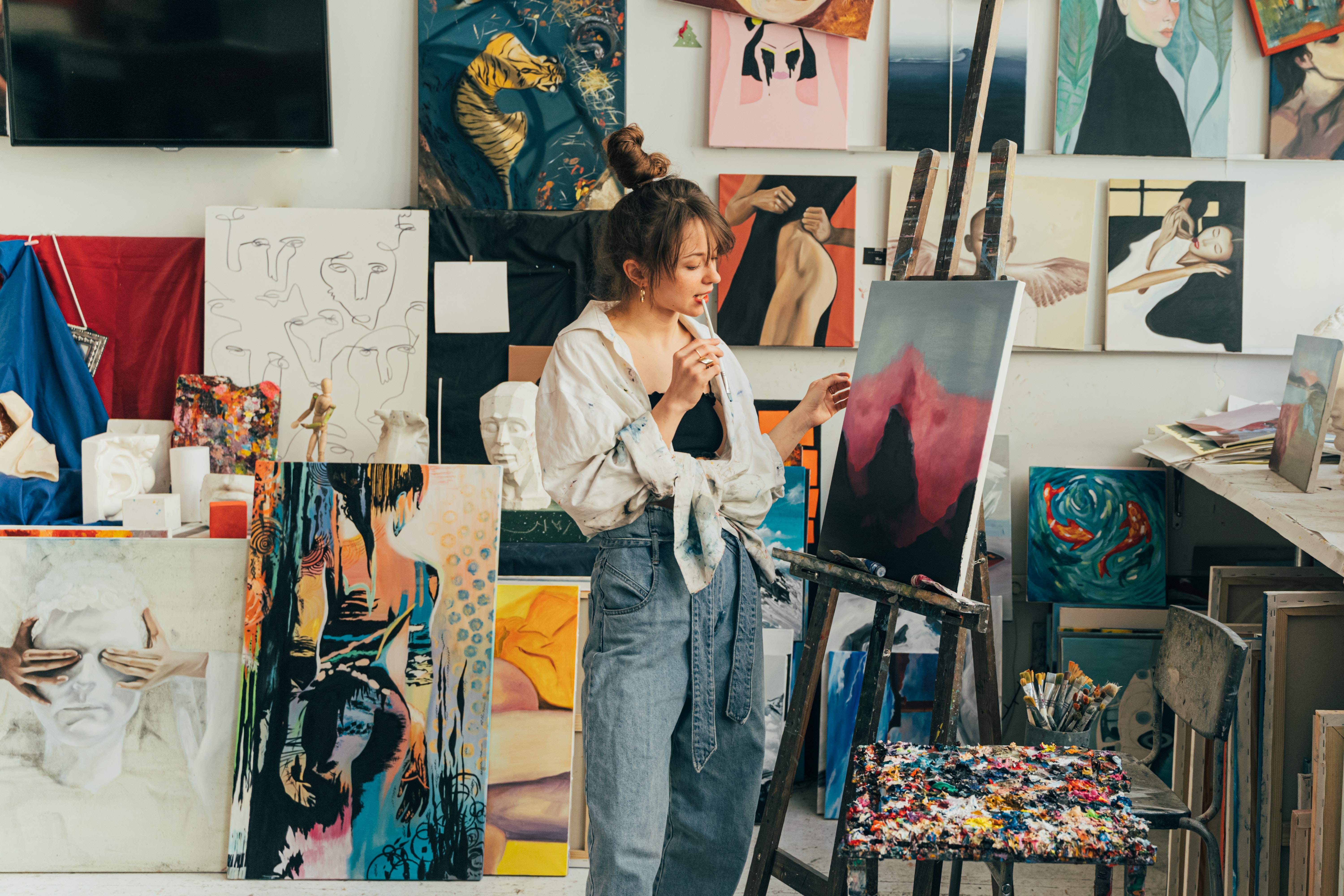 If you are artist and you don't have a website or you are relying on social media to showcase your work, it is beyond time to change that. Like word of mouth, a presence on social media may help you begin to get the word out about your art, but there are so many limitations if this is your only form of online portfolio. As an artist, you have to consider that your art is your business, and in our modern, internet driven times, every business needs to stay up to date with what their competition is doing.
First and foremost, nearly everyone is online at this point. Think of how many businesses that you know of that have no presence online, chances are, there aren't many, and those that you can think of likely aren't as successful as those with a web presence. If you choose to not have a dedicated, personal space to direct people to your art, you are short changing yourself because everyone else is online. You could choose to set up social media accounts to help showcase your work, but with just a social media account, you are just one of many, many people vying for attention of the users of that social media website or app. On top of this, if you are found on social media, it is expected that users will be able to find your website through your social media pages. It has been found that 84% of people expect this, and they even report that they consider the business/artist to be less professional if there is no website to further their quest for information about what you have to offer. Not only does the average user want more than just a social media page to learn about your offerings, those dealing in art and even running art galleries expect the same. Gone are they days of art gaining popularity through word of mouth and physical portfolios, now online portfolios in the form of personal art websites are what those looking for art are seeking out for potential art purchases and gallery inclusions. If there is nowhere for art lovers to find your art, or if you are lost in a sea of similar social media pages, you simply have almost no chance of being found.
Not only do you benefit from the exposure that you are creating by giving yourself a professional website, you also have the potential to sell your art directly if you choose. With your own website, you have the choice of keeping it as a portfolio of your work to supplement a shop you may have elsewhere online, or to create your own shop that is separate from any other third party sites. While the exposure gained is plenty of reason to have a personal, professional website, you also have the potential to earn more money this way. With your own personal, online shop for selling your art, you no longer have to pay all the extra fees associated with most art marketplaces online such as Etsy, Redbubble, or Amazon. Not only are there less fees involved, you have the potential to draw in more web traffic with a personal website, as Google ranks personal websites higher than social media pages and shops within these marketplaces. With a professional website, not only does this benefit you, but your team of developers will also be working to improve your website's search engine optimization, further raising your website higher in internet searches and therefore potentially raising your web traffic and sales.
Even if you do decide that you are ready to get your art online, you may be considering what may seem like a cheaper, easier solution than a professional website. Many people consider using free or cheap website builder solutions such as Wordpress or Wix, but the savings that you may find may come to harm your business and damage your reputation online. The most obvious problem is that with a website built with one of these tools, you are limited to a domain that includes their name, which instantly appears, and makes your work appear, less professional. In addition to this, you are nearly always forced to display some sort of banner or ad on your website that reveals that you chose to use a free or cheap builder. With your own website, your work is the center of attention and has no label to display that you chose the cheaper, and often times less functional, option. You are also at the mercy of the free tool that you used, and may find yourself needing assistance that you simply won't get because they do not offer support. With a professional web developer, if your website goes down or you have a problem or need an update, you will be able to contact them and actually have your problem be addressed, unlike those who built their website with a free builder.
Another huge benefit to your art is that it will be displayed how you want it. With social media or free tools for building websites, you are forced to display your art in the same rigid way that everyone else who uses the apps or tools does. With your own website, your art can stand apart from those who are relying on free means of displaying their art. You have more control of your website's vision, and therefore how others will perceive your art. Not only this, but you also create a record of your art that isn't dependent on social media, that can go away at any time. With this record, you have more copyright claims to your art than those who are just posting it elsewhere. You also won't have to rely on your art popping up on someone's feed at the right time for them to see it, because it will be front and center, wherever you want it on your website.
If you are ready to display your art in the way it deserves and get your work farther out in the world, contact us! We are located in New Albany, Indiana and we serve the Southern Indiana and Louisville, Kentucky areas, but we're available to help anyone, no matter your location!